After our Mountain Birding Tour it was time to leave Socorro, New Mexico and head north. We drove to Albuquerque planning to eat lunch at one of our favorite restaurants before heading farther north (and east) to Las Vegas, New Mexico. When we arrived at the location of one of our favorite restaurants we found that Pereas wasn't there. Instead, it had a new name, Seferinos - located on Central and Alvarado. While waiting to be seated we found that the restaurant is run by the same family - known for some of the best true New Mexican fare. My husband had one of his favorite dishes, Carne Adovado, and I had a beef taco plate. We also ordered a couple of sopapillas. After lunch we headed north to Las Vegas, NM, about 60 miles east of Santa Fe. Once we arrived in Las Vegas we felt we should locate a motel before heading over to the refuge. As we exited from I-25 we saw what looked like a brand new, just opened Holiday Inn Express. We found out that it had just recently opened - they had only been opened for two weeks. I can't imagine a motel/hotel having a grand opening in a small (out of the way) town in early November (unless they are anticipating a lot of holiday traffic). We managed to get a suite for the night for only $85. It sure was luxurious. It had a flat panel TV and a king-size bed, with a fridge, microwave and a bar sink. We then headed over to the Wildlife Refuge to see if we could see any cranes flying in for the night. By now it was getting close to sundown. We did see some cranes flying in as well as snow geese. Most ducks and Canada geese had already arrived earlier. Below is what I attempted to capture of a virga in the clouds. And the second photo is the sunset we saw while driving through the refuge. That is Lake McAlister in the sunset photo, which is the largest lake on the refuge.
We headed back out to the refuge around 10 a.m (Mon, Nov 19). Below is a flock of Canada geese we saw while driving around.
We also saw many ravens throughout the refuge, in the fields and perched in trees.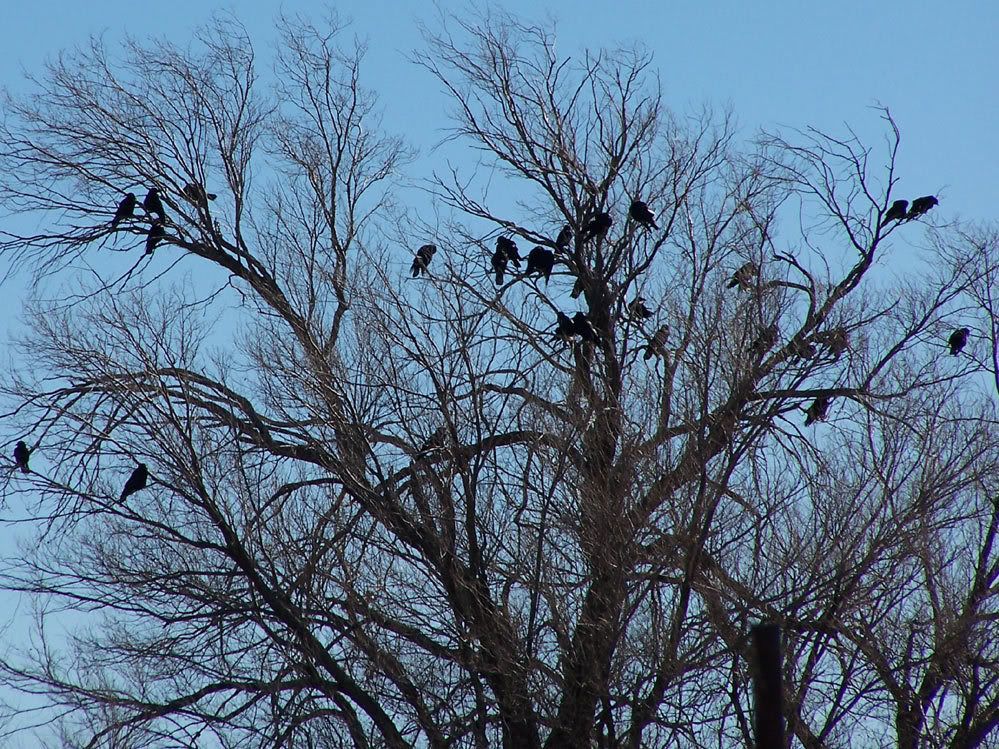 And then we saw sandhill cranes in several fields. Here are a few photos of what we saw.
Notice ravens perched in the trees in the distance.