Red and I took in as much as we could walking around and touring Colonial Williamsburg Friday morning (Aug 24). One of our tours was to see the various gardens of the 18th century called The Gardens of Gentility. The first and the largest was of the Governor's palace. The second one was of George Wythe's home (one of the signers of the Declaration of Independence). The third one was quite small, belonging to the home of James Geddy, Williamsburg's silversmith and jeweler. The tour provided a comparison between the gardens of royalty, gentility, and middle class folks of the late 18th century, taking about 2 hours. The next several photos are of the Governor's Palace and garden.


Front of Governor's Palace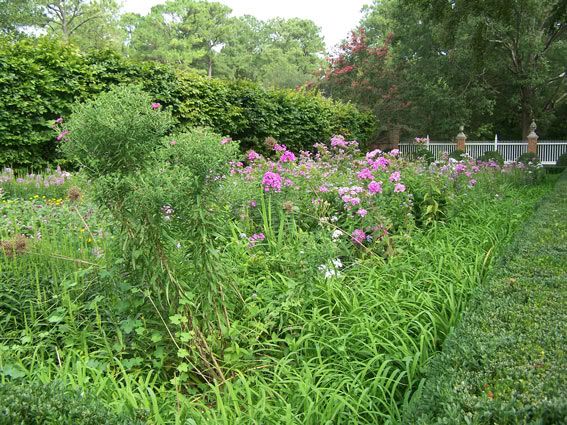 And the following photos are of the garden of George Wythe's house.

Following the garden tour, Red and I continued walking around town and taking note of various other gardens, yards, and architecture. One of the things I noticed was just about every yard had at least one Rose of Sharon. They are such beautiful plants. Here are a few of the photos I took of them.

After walking around town, and feeling quite warm and sticky, we decided to drive over to Yorktown and cool down in our air conditioned car. The following photo is the only one I took while we were in Yorktown. I believe Red has a

similar photo

on her blog.
We then grabbed some dinner before returning to Colonial Williamsburg for our evening programs. The first one was Legends, Myths, Mysteries, and Ghosts. Below is a photo of the Lumber House, where the tour began (at 7 pm). Our second tour began at 8:30, held in the Court House, called Papa Said, Mama Said. There we heard stories about those who served as slaves and whose parents passed on their stories of culture, ethics, and morals of their ancestors from Africa. Each of our tours had volunteers/docents who were dressed in historic colonial attire. I sure felt sorry for them being dressed in such warm clothing. Here we were in shorts and T-shirts and still uncomfortable from the heat and humidity.