Following the noon meal formation at the Naval Academy, Red and I walked around other parts of Annapolis. Some of the spots that the tour guide pointed out intrigued us enough to give us the desire to return to get some better photos. One of those spots was the Chase-Lloyd house. Here is a link to the history of the house provided by the National Park Service. Apparently, Samuel Chase, one of the signers of the Declaration of Independence, began building this house in 1769. But then he sold it unfinished to "Edward Lloyd IV, a wealthy Maryland planter and politician." Be sure to click on the NPS link - it's quite informative.


Below is a shot of the sign in front of the house. The main reason for taking this photo was to get a shot of the beautiful hyacinth bean plant growing all over the front of the house.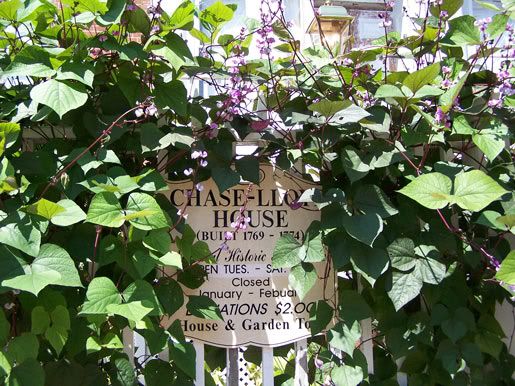 Below, I took this photo when Red was taking a close-up shot of the hyacinth bean plant.

Below is a view of the Naval Academy from the WWII Memorial.